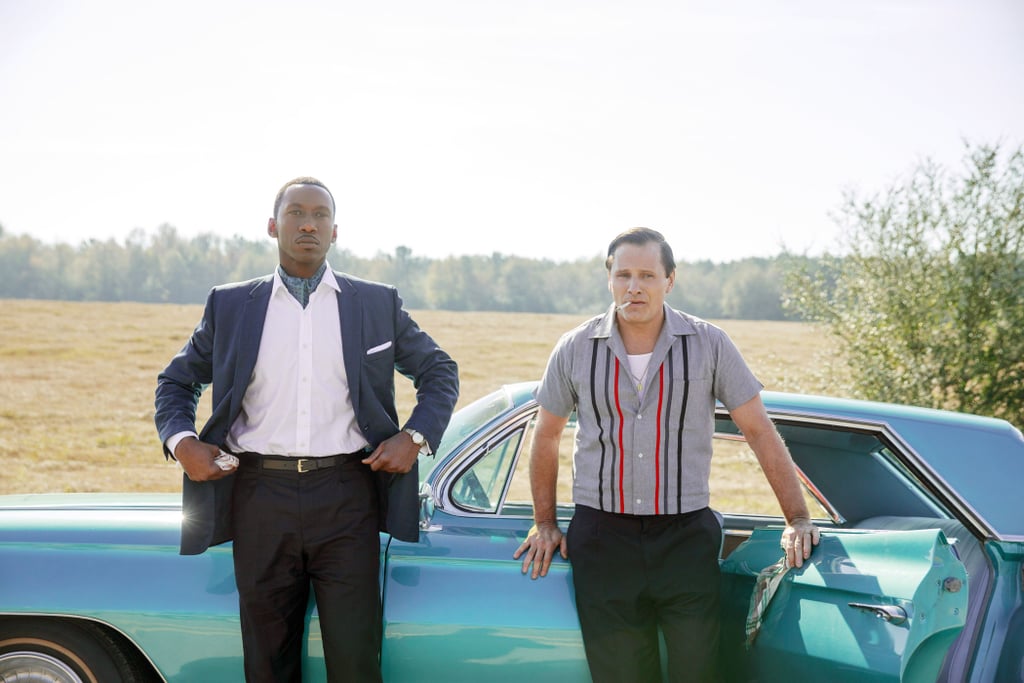 Green Book tells the story of Tony Vallelonga (Viggo Mortensen), an Italian-American tough guy, who is hired as a chauffeur and guard for Dr. Don Shirely (Mahershala Ali), a black musician embarking on a concert series in the deep south in 1962. Based on a true story, the odd-couple road-trip has the two characters overcoming their personal biases, as Tony's eyes are opened to his own prejudice and Don Shirley realizes he needs to loosen up and eat fried chicken and play the blues. The dramedy is good, the mediation on race is not, and I think it is most telling that most of the scenes that discuss race are between white people, without Mahershala Ali or any other person of color in it. So…. we're going to discuss that.
Now not every movie with black and white protagonists need to explicitly discuss race. But this one, by the necessity of the story and by choice, chooses to. That means there is an expectation in place to do it well, which it doesn't.
The movie's thoughts on race feel like they are straight out of the 1960s. And yes, that's when the movie takes place, but this is a film made in 2018, and therefore needs to reflect our more nuanced conversations. So having a movie where the message boils down to, Just get along guys! If we were all friends, none of this would be this way, shows a serious lack of thoughtfulness on the part of the filmmakers. The idea that friendship will solve racism makes it seem, as Princess Weekes writes in her review of the film for The Mary Sue, "as if the centuries that black people spent enslaved on the fields and in the houses of white plantations wasn't enough of a team-building exercise."
I understand there are restrictions on the narrative because it's a true story, but there are ways director Peter Farrelly could frame it without being so simplistic. I understand the desire to say, "Why can't a movie about a black person and a white person becoming friends be good enough? Isn't the only way to fight racism through individual relationships?" And that, to a degree, is true. But the film doesn't even try to address how we start working on deconstructing institutional racism and it asks its black characters to do all of the work towards reconciliation. That is what the problem is. And further, it suggests that now that Tony has had this experience, by spending time with a special black person who is able to change his worldview, he is "cured." But that isn't the case. White people must be constantly assessing their own biases and working on changing the racism that has been ingrained into us, no matter how well we were raised or how subtle it seems. Having black friends won't simply fix that, and thinking it does will make us complacent.
There have been many excellent films about race that came out this year, but I think the best ones are the ones who challenge our binary categories of "racist" or "not racist." This movie and BlackKklansman are films where racism is either solved or easily relegated to the bad characters. In comparison, a movie like The Hate U Give shows that even the most well-meaning white characters still have a ways to go, and further, was not a movie that held the hand of those white characters, because it is not the job of black people to teach white people about racism. This is what Green Book does. Princess Weekes continues in her review,
Black people and white people should try to understand each other better, but why does that always have to be framed with Black people doing all the work? Let's be clear: This has nothing to do with "wokeness" or needing [Green Book] to be "woke." It's about the fact that these movies are not for Black people, but utilize Black pain and black historical trauma to craft feel-good movies to make white people cry…A black or brown person "teaching" a white person to not be racist, in return for learning to enjoy fried chicken, is not a fair exchange.
I'm being extra hard on this movie because it's pulling in front of the awards race. If the Academy truly cares about nominating and awarding movies from marginalized groups that actually furthers discussion in our country and exposes millions of people to new stories and worldviews, then they need to nominate movies other than Green Book. It's a fun buddy movie, and Mahershala Ali and Viggo Mortensen do an excellent job. But that isn't enough.
My new rule of thumb is that if I, a white person, walk out of a movie that discusses race and I feel good about it, then something is wrong.