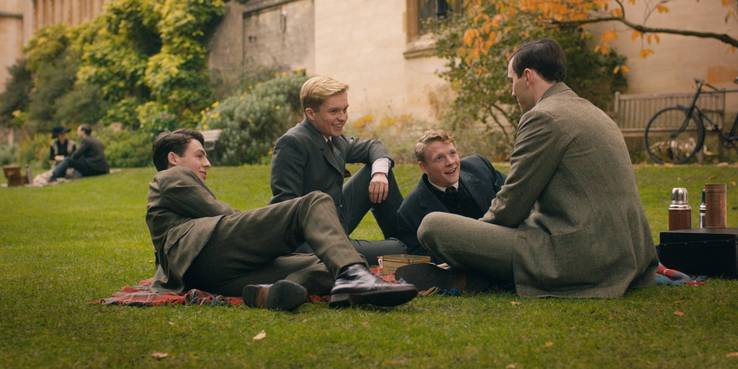 Tolkien is a new biopic about the life of J.R.R. Tolkien, best known as the author of The Lord of the Rings trilogy and The Hobbit. Biopics are hard to do because they usually go one of two ways. The first is where they become about the lead actor trying to imitate a famous figure and thus they simplify and whitewash history so that the story can be inspirational. The second way is where the biopic is a reinvention of a personality that tries to imply certain things about the person, which also whitewashes and simplifies history, and makes the person an icon of a specific cause or identity. It is very hard to tell the story of a person that doesn't play only into what people want that person to mean to them.
So, what about Tolkien? Tolkien the man (played here by Nicholas Hoult) isn't a particularly well-known individual. His work lives on but, outside of academic circles, his life doesn't have much influence on the common perception of his work. What is the purpose of telling his story?
During the film, one of Tolkien's professors tells him, "People take a certain comfort in the past." This is, unfortunately, the unintentional thesis of this biopic (and to be fair, of most biopics). Between all of the scenes of twentieth-century British boyhood, from dead mothers to boarding schools to uptight fathers to drinking tea with the chaps, gallivanting around the pastures, and reading old books under the guidance of professors, the antiquated anglophilia of the movie fails to do much beside remind me of better movies, particularly Dead Poet's Society and The Imitation Game. The stories of men like Tolkien have been told many times before. That doesn't mean Tolkien's life is irrelevant by any means- he was a real person- but it means the film has to work harder to tell his story in a creative fashion, which it does not do. Therefore I feel like I'm watching a remix of other films, rather than a story personal to one man.
To its credit, Tolkien isn't concerned with making everything in Tolkien's life have a direct 1-1 correspondence to something from his books (unlike, say, 2017's The Man Who Invented Christmas). While there are some brief direct allusions to his work ("it shouldn't take six hours to tell a story about a magic ring"), overall the film is more interested in creating an atmosphere where Tolkien could find his stories.
The problem with building this atmosphere, however, is that the movie wants to focus on Tolkien's fellowship with his friends, yet the movie spans half of his life. This means there are long portions without his friends, and since the movie is much less interested in showing how those parts of his life influenced his work, those scenes feel like filler and lack any interest or urgency that the friendship scenes have. This is worsened by the fact that each section of his life is shown as utterly independent from the other. Take, for example, his relationship with his wife Edith (Lily Collins). Except for one scene where she meets his friends, the groups are kept completely separate. The "fellowship" part of his life, which ends up being the heart and theme of the movie, is established with these mates and is never connected to Edith, who from her first appearance is framed not as a friend but solely as a love interest.
And that's fine, but it means the film, which is more interested in how fellowship influenced Tolkien's works than how romance did, could have omitted all of Edith's part and very little harm would have been done. This is not only poor storytelling but is a truly missed opportunity to explore how Edith became the inspiration for all of Tolkien's iconic female characters.
This is only part of Tolkien's focus problem. The movie has a framing device where Tolkien is in WWI going to the front lines to find his friend. He passes out and has rapid-fire flashbacks through his childhood, mother's death, boarding school years, and courtship with Edith. The pace slows down significantly to show his college years, before jumping back to the war scenes and the framing device. He finishes out his mission, and suddenly the movie is back in chronological order with no flashbacks as we finish out on him as a family man, which means we miss out on other things about Tolkien, like his Catholicism, friendship with C.S Lewis, and his other group of artistic friends, The Inklings. If the movie was truly going to be about friendship, then wouldn't it make more sense to have the timeframe of the film start with Tolkien's school friends, their war experiences, and then Tolkien recovering from the trauma of war and losing some of his friends by creating The Inklings? I guess that would make too much thematic sense.
The focus problems come with a pacing problem, which is a result of a screenplay that makes confounding choices on which scenes should be brief and which ones should be long. Most of Tolkien's childhood flashback scenes are annoyingly brief, which means none of the relationships get to marinate and build. Meanwhile, there are several very long scenes, but these scenes are mostly of Tolkien talking about other people, which confuses us on who this movie is about. Hoult's (and his eyebrows') performance is competent, but he is so easily overshadowed by the other actors that it is disappointing to remember that he is the lead. I've seen good movies about quiet introverts (2017's Paterson) and mediocre/boring ones (2016's Loving). It's possible to have charisma and still be a soft-spoken, introspective type, but Hoult and this movie just simply aren't up to the task.
If you want to make a theatrical release, especially now in the age of streaming, there is a degree to which you have to justify your movie being in a theater. People only have so much time and money to spend at the movies, and so it has to be a movie worth seeing on a big screen. Tolkien never justifies itself in being a big-screen movie. Frankly, I don't think it justifies itself being a movie. It simply doesn't have enough insight into Tolkien and what makes his work still so beloved and relevant.
So what is the purpose of telling Tolkien's story? I think it is to make me wish I had spent my time rewatching The Fellowship of the Rings instead.
-Madeleine D.