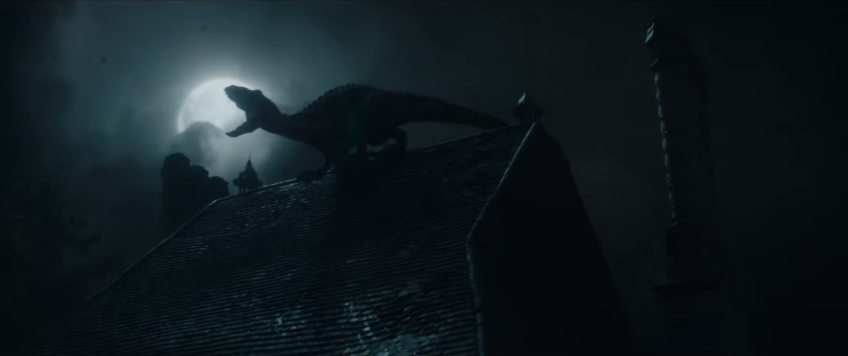 *Massive spoilers!
Jurassic World: Fallen Kingdom is the second installment in the reboot of the Jurassic Park franchise. I found the first Jurassic World (2015) dumb and boring. This movie is a major improvement in that it is dumb and off its rocker, which if your movie isn't good, is the second-best-thing.
Fallen Kingdom takes the franchise out of the park, finally justifying the "Jurassic World" title and taking the series in a different direction. Director J.A Bayona has a horror background and puts it to good use here. The lighting and cinematography, along with setups and suspense, flip-flop between being unique and almost shot-for-shot copies of the original Jurassic Park, but are all used well within the story. It's a monster movie, with visual allusions to Godzilla, King Kong, and werewolves. While it doesn't always succeed, Fallen Kingdom is an ambitious next step, and I find that very admirable for a franchise.
Of course, it doesn't experiment with everything. We've still got our two leads from the first film. Chris Pratt is Owen, aka Chris Pratt, which I'm pretty tired of right now, but hey, he does leading man well. But it's really Bryce Dallas Howard as Claire who really gets to shine here, taking her character development from the first film even further, and giving a terrific balanced performance of action-hero competence and raw emotion. The movie also tries to, like its predecessor, attempt some winking-topical "humor". The first used its corporate focus and egregious brand-promotion to say… something meta. I don't think it succeeded. Fallen Kingdom has a military character call a character a "nasty woman" and has the rich billionaire villain have a Trump-style hairdo. Oooh, back up everyone. This is a topical film, not here to mess around. These attempt at relevancy are shallow, meaningless, and fall flat. It's okay Jurassic World, you don't need to do anything like that. You know what you're about.
The ultimate argument of the film is that since humans brought dinosaurs back to life, it's our duty to give that life as much freedom as we give other living things. This is encapsulated by a child named Maisie, a human clone (yes, you're reading that right) releasing the dinosaurs into the world  and saying they're "alive like I am." Which might be a more convincing argument if human clones were real, but… they aren't. Yet. This film does not dive into human cloning and this revelation, which is probably just a set-up for the third movie, feels a little cheap. Furthermore, these dinosaurs were brought to life by a tiny group of powerful people who promised to keep the dinosaurs safely away from human civilization. Their malpractice should not mean a more dangerous world for everyone else. As my vegetarian sister counter-argued against the dinosaurs-should-be-free-despite-being-a-danger-to-humans argument: "I try not to eat chicken, but if a giant chicken was going to eat you, I would eat it." In other words, unless we believe dinosaur life is of completely equal value to human life, then we should prioritize the safety of humanity.
To its credit though, the film does do an excellent job setting up its thesis. It shows how similar humans and these dinosaurs can be. Both kill each other and both are capable of love, protection, and emotion. The dinosaurs have emotional range! It sure sets up an interesting debate on the sanctity of dinosaur life and freedom. And having the "parents" of Jurassic World (as a character in the film labels Owen and Claire) make the mess, and then the new generation (represented by child Maisie) take on that responsibility, is surprisingly touching.  
All that doesn't mean the film isn't silly and derivative at times- it is- but I'd rather watch a film taking a running dive off the deep end than shrug in mediocracy.
(P.S, While I will not be reviewing them, I highly recommend the documentary Won't You Be My Neighbor? and Incredibles 2, both in theaters now. Won't You Be My Neighbor? is a touching tribute to Fred Rogers and a peaceful protest/plea against the anger and divisiveness that is depicted in our media and politics. It is also a positive (but also honest) view of a Christian who used media to teach everyone that they are loved and worthy of love and dignity as a creation of God. Meanwhile, Incredibles 2 is just as fun and smart as the first, with laugh-out-loud humor, sweet family lessons, and incredible action. It's a truly deserving sequel worth waiting 14 years for.)
-Madeleine D